Glide Out 100 Storage Solution
The Glide-Out 100 is a space-saving solution that is designed to provide quick access to your materials in a quick and safe manner. This safe, convenient, and durable solution is perfect for mold storage and die storage as well as for storing generators, engine components, chemicals, and other materials that you want to avoid handling with a forklift.
Cranston Materials Handling of Pittsburgh offers the Glide-Out 100, that can be customized in any color and any size to meet your unique specifications.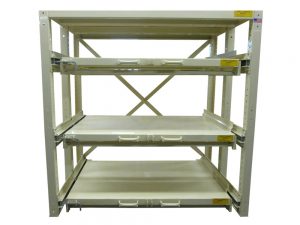 A Glide-Out can solve a variety of spacing issues and prevent excessive machine downtime. Your operations can greatly benefit from a Glide-Out if your facility meets any of the following:
Floor space is too restricted to access your racking with forklift
Your workers are leaning too far into existing shelving to handpick heavy items, creating a safety issue
Downtime between die or tool changes is excessive
Your material, tooling, or dies are too valuable to handle with a forklift
The stock parts are not readily visible because of deep racking or shelving
Rack or shelf space is being wasted
The aisle way for a forklift takes up manufacturing or storage floor space
Glide-Out 100 Adds Safety and Ergonomics to Your Operations
When accessing materials, ties, tools, and other important components being able to easily and safely access them is key, making the roll-out storage and superior performance of the Glide-Out 100 and ideal storage and space-saving solution for even the most unique production issues.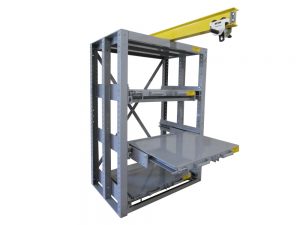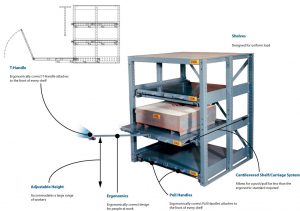 The Glide-Out 100 is available in standard sizes but can also be customized in any size and any increment. Other benefits of the Glide-Out 100 include:
Reduce machine downtime by placing the Glide-Out next to the production machinery
Eliminate a forklift driver in die, tooling, and mold change over
Save aisle space by eliminating the need for a forklift turning radius
Save valuable manufacturing floor space by better utilizing the vertical space with the multi-level guide-out
Create a safer work environment for employees by reducing their need to bend down or extract heavy items and materials from stationary shelves
Work with Cranston Material Handling of Pittsburgh, Pennsylvania, to create a safer and more efficient work environment using the Glide-out 100.