The Client
JSP International has been a pioneer in foamed plastic materials since its founding in 1962. Their products are engineered to take advantage of plastic's full potential and can be found in virtually every industry around the world, with a particular focus in the automotive, construction, civil engineering, material and food packaging markets.
Their core business is centered around the development of new products that break the mold of existing concepts to supply their customers with the best solutions today, while working toward future innovation.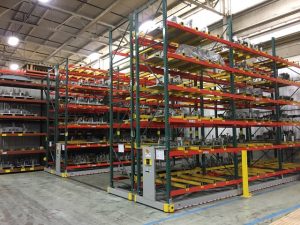 The Challenge
At JSP's Butler, Pennsylvania manufacturing center, they needed to increase the number of pallets stored without increasing the amount of floor space used for storage.
At this location, JSP manufactures foamed plastic component parts and bumpers for the automotive industry. Their facility houses a large number of parts in a variety of sizes and heavy weights, all of which are in a constant stream of movement from the creation process through packing and shipping.
To accommodate this flow of goods, JSP has a system of Steel King tubular pallet racks. Designed for the storage of heavy loads and providing greater damage resistance, these racks are ideal in manufacturing environments.
JSP needed more storage, but this time, they did not have the floor space available that installing pallet racks with traditional aisles would require. So to increase their pallet storage, they choose a mobile racking system.
The Solution
JSP had previously worked with Cranston Material Handling Equipment Corp. (Cranston) of Pittsburgh on the initial design of their existing tubular pallet racks. JSP looked again to Cranston, a third-generation business founded in 1957, to supply the rack for the mobile rack system.
"We have decades of experience in this industry and understand that a mobile storage system needs to be designed to meet the customer's specific application," said David Cranston Jr. "And we knew from working with them in the past, the type of pallet racking they required."
Cranston worked with Spacesaver, specialists in high-density mobile shelving, to design the racks to go on their carriage and rail system. Cranston's racks installed onto Spacesaver's bases created a highly functional system for JSP, while keeping the footprint of the storage area to an absolute minimum.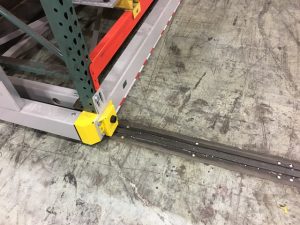 The Result
JSP has increased their Pennsylvania location's storage capacity. The new mobile racks not only allow for a higher density of storage in the same space, but they are safe, easy for staff to move, and provide excellent access to the material stored in the racks.
"JSP is very happy," said Cranston, "and we look forward to partnering again with Spacesaver on any mobile rack systems our customer's would bring us in the future.
Find Out More
Cranston Material Handling Equipment Corp. looks at your material handling or storage application through the lens of decades of experience. Whatever you're specific needs we can help you sort through the options to maximize your workspace. Contact us for more information today at cranston-material-handling-equipment.com or 412.741.8060.
https://cranston-material-handling-equipment.com/wp-content/uploads/2017/10/IMG_5645.jpeg
480
640
Cranston Material Handling Equipment
https://www.cranston-material-handling-equipment.com/wp-content/uploads/2017/03/cr-logo.png
Cranston Material Handling Equipment
2017-10-23 16:08:45
2021-07-01 15:45:05
Mobile Pallet Rack System for JSP International