A warehouse mezzanine is an elevated floor that is installed in the unused open-air space between your concrete floor and the ceiling of the warehouse. A warehouse mezzanine is free-standing, which means it does not connect to or is not supported by your building. They can be easily enlarged or dismantled and moved when changes in your operation happen.
The flooring of a warehouse mezzanine varies based on the specific application. The most common flooring material is Resindek, an engineered wood that is very wear-resistant and has the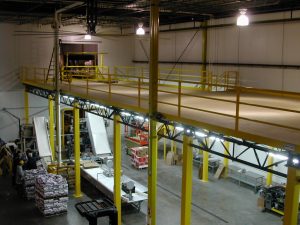 structural integrity to support pallet jacks. Other floor deck surfaces are steel plate, fire retardant plywood, and concrete. All four of these flooring systems are overlaid on corrugated steel roof deck, also known as B-deck. The roof deck provides the flooring with its loadbearing strength. The most commonly used B-deck is 20 ga. in thickness but it can come in 18 ga. or 22 ga. depending on the load-bearing requirements of the mezzanine. Bar grating is another type of deck surface that can be used when light, airflow, and other factors need to be taken into consideration.
Mezzanine systems in a warehouse environment can play an important role in helping you increase storage or workspace by utilizing the vertical space you already have available. Once the mezzanine is constructed, you continue to use the space underneath, while gaining a whole second floor.
Benefits of Using a Warehouse Mezzanine
Worried About Outgrowing Your Facility
A major problem that many manufacturing plants and distribution centers face is outgrowing their facility. For companies with a production line or a lot of shipping and receiving, storage space is extremely important. If you've been at your facility for any length of time, you may have already seen what a challenge it can be to keep up with the demand your business has for space.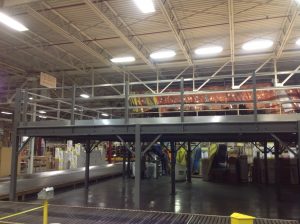 An experienced mezzanine designer can layout your mezzanine around equipment, walls, and other obstructions in your facility. They can locate columns out of aisleways in order to maximize access below the mezzanine. This allows you to very efficiently add work areas and storage space to your facility. Also, keep in mind mezzanines are not just a temporary fix, as you can incrementally create a substantial amount of space over time by adding onto your mezzanine, as your business grows. This can help you extend by years the amount time your current building can accommodate your business's needs.
You Don't Have to Relocate
When you start facing space constraints, you may begin thinking about renting or purchasing a larger facility and relocating your business or adding on to your current facility. Fortunately, with the help of the experts at Cranston Material Handling Equipment, you can design and customize a mezzanine that will help you make the best use of your current space, eliminating the need for relocation or making additions to your current facility.
Create space with only nominal increases in ongoing fixed costs
If you were to add-on to your building, purchase or lease a new building, you would incur ongoing real estate taxes, heating and cooling costs, and mortgage or lease payments. When you construct a mezzanine within your existing facility the real estate taxes do not increase and your heating and cooling costs do not change. Once you have paid for the mezzanine you do not continue to make monthly payments. A warehouse mezzanine is a very cost-effective way to grow your available space.
Mezzanines have a variety of different applications to help increase the space in your warehouse efficiently. At Cranston Material Handling, we are experts in the layout, design, and installation of warehouse mezzanine systems to help you create more space to better accommodate your operations. Contact us today to learn more about our warehouse mezzanine systems.
https://cranston-material-handling-equipment.com/wp-content/uploads/2020/08/Mezzanine4.jpeg
588
784
Cranston Material Handling Equipment Handling Equipment
https://www.cranston-material-handling-equipment.com/wp-content/uploads/2017/03/cr-logo.png
Cranston Material Handling Equipment Handling Equipment
2020-08-06 23:10:18
2021-07-01 15:05:02
What is a warehouse mezzanine?