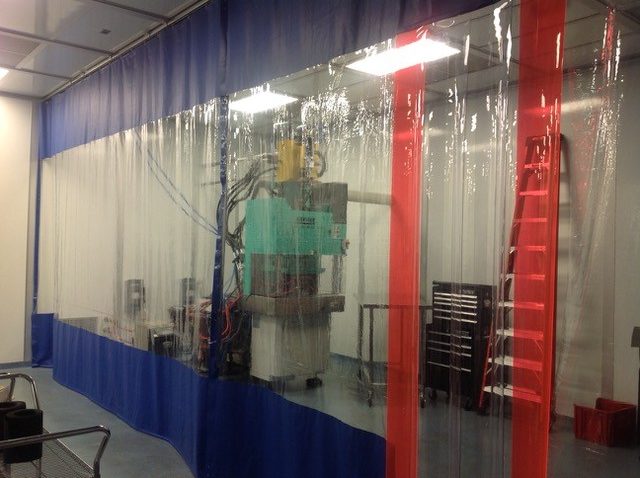 Industrial Curtain Walls
Consultation | Design | Installation | Project Management
Industrial Curtain Walls are a highly versatile and economical way to solve a wide range of facility issues. Made from lightweight PVC material, industrial curtains can perform the same as permanent walls at a fraction of the cost.
Cranston Material Handling of Pittsburgh can provide you with industrial curtain partitions sized for your specific application. Great for containing environments – in or out – they are a fantastic option for areas that require separation from the surrounding area.
Types of Industrial Curtain Walls
Warehouse Dividers
As a budget-friendly alternative to permanent walls, industrial curtain walls are easy to install, open and close easily, and can be removed and stored when not in use.  Warehouse dividers can be used to divide work spaces, ensure privacy, or save on heating and cooling by reducing the square footage of temperature-controlled space.
Work Cell Partition Curtains
Work cell curtains divide work zones for many uses, such as isolating individuals, separating job types, or containing dust/paint/spray.
Smoke & Odor Containment Curtains
Keep smoke and odor in the work zone where it's created in order to ventilate properly.  Prevent smoke and odor from reaching other work zones or leaking into the warehouse or manufacturing facility.
High Temperature Curtains
High temperature curtains are used for specialty applications because the material they are manufactured from allows for extreme heat tolerance and is fire-retardant.   Used for welding, plastic molding, steam processes, sealing, and other high heat applications.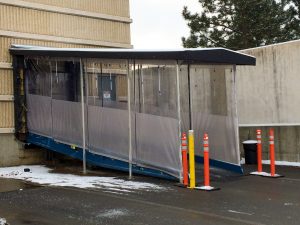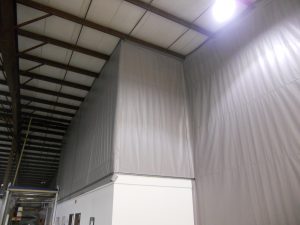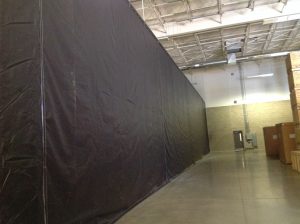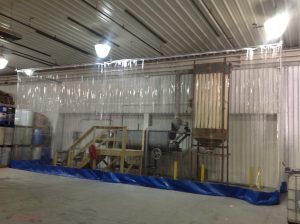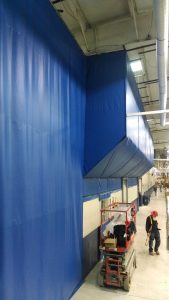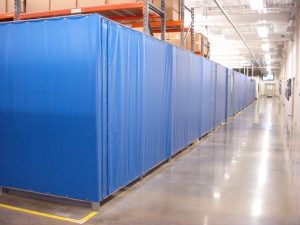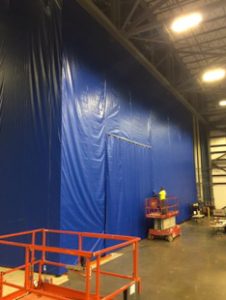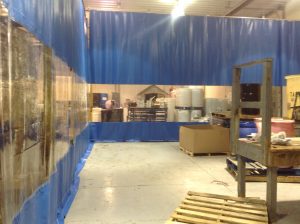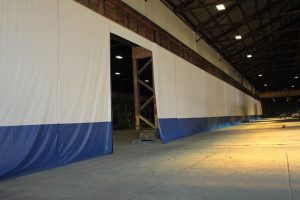 Benefits of Industrial Curtain Walls
Prevents Dust

Customizable

Block Light

Privacy

Provide Good Insulation
Fire Resistant

Noise Reduction

Enhance Temperature Control

Clean Workspace

Inexpensive
Meet NESHAP Compliance

Minimize Air Flow

Increase Productivity

Temperature Controlled

Easy to Install
Applications of Industrial Curtain Walls
Cleanroom Partitions

Custom Curtains and Enclosures

Dust Containment Curtains

Fume Curtains

Hazmat Curtains
Outdoor Curtains

Room Dividers

High Ceiling Divider Panels

Machine Curtains

Work Area Dividers
Sand Blasting Curtains

Visual Barrier Curtains

Spray Containment Booths

Temperature Barriers

Temporary Walls
Industrial Curtain Wall FAQs
What are industrial curtain walls?
Industrial curtain walls are retractable and adjustable barriers, dividers, or partitions that offer an alternative to permanent walls. Often made from heavy-duty industrial vinyl or PVC, they are used for a variety of purposes such as dust containment, temperature control and welding.
Are industrial curtain walls customizable?
Our made-to-order industrial curtain walls and dividers are available is a variety of different colors and materials such as vinyl, poly and nylon. Cranston industrial curtain walls are resistant to fire, water, oil, mildew and most acids.
Why You Should Choose Cranston Material Handling To Design, Construct, & Install Your Industrial Curtain Walls
We can help find the right solution to fit in the space you have available.
We've been serving Western Pennsylvania, and the rest of the country from Pittsburgh since 1957.
Need help with installation? We're happy to help you install your divider to help eliminate the stress and strain of additional workload on your team.
Sometimes you don't have the bandwidth to take on another project. Our team can manage the details, so you can stay focused on your work.
We have built our business on trust and personal relationships. Consistently meeting client's expectations means most of our business comes from repeat customers.
We've seen a lot since 1957 and are known as professional problem solvers. Rely on us to provide the right products to meet your specific need.
Contact Us About Your Industrial Curtain Wall Needs
We're Proud To Carry High Quality Products From These Manufacturers